Puffy is fairly new to the bed-in-a-box industry, but they've quickly made a name for themselves. In addition to the Puffy mattress, the company also offers the Puffy Lux, which is their more premium option.
Puffy Mattress Construction
As we eluded to above, the Puffy mattress is constructed with two foam layers. For the bottom, the bed uses a 6″ firm support foam. Like with the GhostBed mattress, this layer functions as the main support framework for the bed. On top is a 4″ layer of what the company calls its Cooling Cloud foam. This is a proprietary foam that functions as the true comfort layer for the mattress.
Despite the unusual name, this proprietary foam feels more like memory foam. However, as you will find out below, it's not your typical memory foam feel.
Memory Foam Feel
Piggybacking off the last section, the top layer of the Puffy mattress has what we consider to be a light, airy memory foam feel. As you lay down on the bed, you can feel the top layer sort of conform and wrap your body's shape. However, the overall feel is just not as dense or thick as some of the other popular memory foam beds on the market.
Bottom line, if you like memory foam, we think you'll like the Puffy mattress a little more than the GhostBed mattress. On the flip side, if you dislike memory foam, we think you'll prefer the foam combination that GhostBed offers.
SEE ALSO: Puffy vs Purple Mattress Comparison
Similarities Between Puffy And GhostBed
Above we described the primary points of differentiation between the two beds, but it's also important to understand the areas in which they overlap.
Firmness & Sleeper Type
In our opinion, both mattresses land around a medium in terms of firmness. We found both beds to be very accommodating. They're not too soft nor too firm. At the end of the day, both mattresses tow a fine line between support and pressure relief.
As a result, we think both mattresses will work for all types of sleepers. Side sleepers will find the mattresses offer a good amount of pressure relief and are gentle around their pressure points (hips and shoulders). At the same time, back and stomach sleepers will find the beds offer ample support where they need it most (lower back and trunk).
Ideal Body Type & Weight
While both Puffy and GhostBed will work for all sleeping positions, we're not sure it's the same story for all body types. Given both beds are comprised entirely of foam, we'd recommend heavy people (about 250+ lb) seek a mattress that contains coils or an innerspring unit. Generally speaking, beds that use coils for their primary support framework (as opposed to all-foam beds like GhostBed and Puffy that use dense poly foams) are more adept to handle the pressure big folks exert on a mattress. If you fall into the large body type category, it may benefit you to check out our list of the Best Mattresses For Heavy People.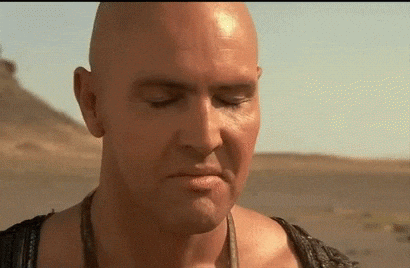 If you don't fall into that category, though, you should be just fine on either mattress. Both GhostBed and Puffy provide the necessary support for small and medium sized individuals.
Responsiveness
This is a small point, but the top layers on both mattresses are somewhat slow to respond. As you can see below, the top layer on the Puffy mattress takes a couple seconds to fully snap back into place after the hand is lifted off the bed.
Despite the slow responsiveness, we never felt as if either mattress had a major stuck-in-the-mud feel (only a little bit). At the end of the day, we think active and combo sleepers will be just fine on both the Ghostbed and Puffy mattresses.
Considerations For Couples
Last up, we think both mattresses will work just fine for couples. Both beds isolate motion well and provide fairly decent edge support. As a reminder, motion isolation is important if you share a bed with an overly active sleeper. The better a mattress is at deadening movement, the less you'll feel your partner toss and turn or move around during the night. Edge support comes into play when sharing a smaller sized mattress, like a full or queen. Beds that are solid around the perimeter have more useful space for both partners to spread out and get comfortable.
Puffy Mattress vs GhostBed Review Verdict
You made it to the end. Thanks for sticking with us. Given the similarities between the two beds, you might still be struggling with the decision of which one to buy. In our opinion, the decision really boils down to feel. If you like the feel of memory foam, we think Puffy is the way to go. However, if you don't like the feel of memory foam, GhostBed is the clear choice since it has more of a neutral-foam feel. Thanks for choosing the Slumber Yard.