VS.
$799 – $1,399
Price Range
$399 – $1,598
$350 Off
Offer
$100 Off + $399 In Free Accessories

People that want a comfy foam mattress
If you're on a tight budget

Best For

If you want a memory foam mattress
People that need a comfy foam bed
All sleep styles

365 Nights
Trial Period
365 Nights
Lifetime
Warranty
Forever
Free Shipping and Returns
Shipping Options
Free Shipping and Returns
Shop Now
Shop Now
Overview Of Lull Vs. Nectar Mattress Review
If you're trying to decide between a Nectar and Lull mattress, you're probably a fan of beds that are completely foam because that's one major thing they have in common. But in this post, we'll be focusing more on how the mattresses are different from each other.
Here are the main points we'll be touching on in this Nectar vs. Lull mattress review:
Feel — They might utilize similar materials, but Nectar and Lull feel different.
Firmness level — Nectar is firmer than Lull.
Body type — Lull mattresses are best for petite to medium body types, while, in some cases, Nectar can accommodate heavier body types.
Lull vs. Nectar Mattress Video Review
Lull Mattress Review
Lull
Why it's Great
Lull is the quintessential online mattress. It has a soft foam feel, three layers of foam, and ships in a box.
Best for
People that want a comfy foam mattress
If you're on a tight budget
Sleep Positions
Back, Side and Stomach
Free Shipping
and returns
Lull has plenty of five-star reviews and maintains true to a three-layer technology that provides you with a great night's sleep.
Lull Mattress Construction And Design
Like Nectar, Lull mattresses are all-foam beds that also incorporate memory foam in their construction. However, Lull is made with a traditional memory foam layer on top of a polyurethane blend foam, or what we like to call neutral foam. Here's a layer-by-layer guide to the Lull mattress:
Support layer — The Lull mattress has a 7" thick base to maintain form and durability for years to come.
Middle layer — The middle layer is composed of a neutral foam that offers a bit more support and firmness than the top layer.
Comfort layer — The Lull mattress offers a cooling memory foam top layer that ensures you won't get too hot while offering your body plenty of pillowy cushion.
Lull Feel and Firmness
Lull is made with a neutral foam so you won't get the sinking feeling you might get with the memory foam in a Nectar mattress. Lull mattresses are also slightly softer than Nectar and land at a medium on our softness to firmness scale.
Is Lull Good For Couples?
Couples need beds with good motion isolation so they don't feel their partner's movements too much. Edge support also helps keep you from feeling you'll fall off if you sleep on the edge of the bed.
Edge Support
Lull doesn't have the best edge support, so we recommend sizing up unless you like to cuddle.
Motion Isolation
Lull Mattress Motion Isolation Demonstration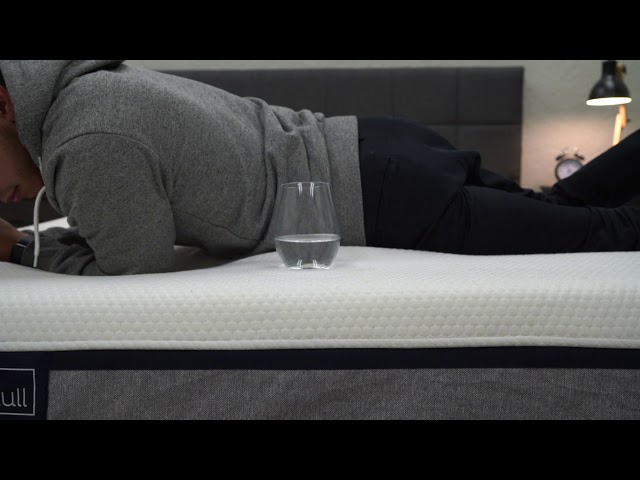 Even light sleepers shouldn't have a problem with being disturbed on this bed.
Lull Mattress Company Policies
Shipping — You'll get free shipping for their mattresses in a box. If you're in a hurry to get your new bed, keep in mind that Lull mattress will be shipped to you after one to four business days — exceptionally fast!
Trial period length — You have 365 nights to test out a Lull mattress.
Warranty policy — Lull offers a lifetime warranty.
Nectar Mattress Review
Nectar
Why it's Great
Nectar could be the most popular memory foam mattress online. It's affordable, comfortable, and usually comes with free pillows. They also have monthly payment options with Affirm.
Best for
If you want a memory foam mattress
People that need a comfy foam bed
Sleep Positions
Back, Side and Stomach
Free Shipping
and returns
$100 OFF + $399 IN FREE ACCESSORIES
$100 Off + $399 In Free Accessories
The folks at Nectar are so confident about the product that they offer customers a lifetime warranty and 365-night at-home trial. Nectar claims that sleeping on a Nectar mattress is like "sleeping on a cloud."
Nectar Mattress Construction And Design
Nectar mattresses are 12" thick and made with a layer of gel memory foam that sits on top of a layer that Nectar calls "Adaptive Hi Core Memory Foam." Here are the layers:
Standard Foam Base Support – As the name implies, this 7″ layer serves as the bed's foundation.
Soft Support Foam – The proprietary material is basically a 2″ layer of memory foam that acts as a transition layer from the support foam below.
Gel memory foam – A top layer of 3″ gel memory foam.
Cooling Cover – This soft cover provides a cooling sensation upon direct contact.
Some people may be hesitant to choose a mattress constructed with memory foam because it does have a reputation for warming up during the night, but Nectar's firmer gel-memory foam layer on top helps regulate temperature better than your standard memory foam.
Nectar Feel And Firmness
If you're a big fan of memory foam, you'll likely enjoy a Nectar mattress. It accommodates a combination of sleepers because the gel-memory foam is soft enough to contour to your body, but it lands around medium-firm on our scale, so it'll provide good support to your shoulders and hips, as well.
Is Nectar A Good Mattress For Couples?
Edge Support
Nectar has decent edge support.
Motion Isolation
The bed does a good job of deadening movement.
Nectar Company Policies
Shipping info — Nectar offers free shipping.
Trial period length — You'll get an entire year with a Nectar mattress.
Warranty policy — Nectar gives you what they call a "forever warranty."
Lull vs. Nectar Mattress Pricing
Lull and Nectar are very similar when it comes to price. A queen-size Nectar mattress has discounted price of around $800, and a queen-size Lull mattress is listed at $799.
Nectar doesn't always offer a discount in the traditional sense of the word but does typically include two free pillows with each Nectar mattress purchase.
| | | |
| --- | --- | --- |
| Size | Lull | Nectar (Discount) |
| Twin | $499 | $599 ($499) |
| Twin XL | $599 | $669 ($569) |
| Full | $699 | $799 ($699) |
| Queen | $799 | $899 ($799) |
| King | $1,099 | $1,199 ($1,099) |
Nectar vs Lull Sleeper Type Analysis
Sleeping Positions
The Nectar mattress is best for back and stomach sleepers, but all sleepers should be able to be comfortable. Lull also works well for all sleeper types.
Petite Individuals

If you have a petite body type, we suggest you consider a Lull mattress. If you have a petite body type, we don't suggest a Nectar mattress. You may not be able to enjoy the memory foam in Nectar mattresses to its full effect because your weight makes it so you barely sink into the foam.

Heavy Individuals

If you're 230 lbs or over, we recommend you go with the Nectar over Lull. However, a mattress with coils will have the most longevity. For somebody on the heavier side, a Lull won't be the best option because it's only 10" thick, meaning it won't be able to support your weight and, over time, the foam will degrade.

We suggest you take a look at our list of the best beds for heavier people. If you land somewhere in between, we will leave it up to your discretion.
Lull vs. Nectar Mattress Comparison Verdict
You'll probably be keeping this mattress for the next decade of your life, so it's important you are fully satisfied with it. Here are the main things you'll want to consider when you purchase:
Do you want a true memory foam feel? If so, Nectar wins. If not, Lull wins.
What are your preferences in terms of firmness? If you want the softer of the two beds, it's Lull.
Do you need to spend as little money as possible? If so, Lull technically ends up being more affordable.
Why Trust Us
Get the kind of sleep you've only dreamed of with some help from our team of mattress experts. We personally test more than 150 of the best sleep solutions from over 60 leading brands on site, so you can be sure you're getting unbiased reviews, fair comparisons and personalized recommendations.
---
The Review Team
Dillon Payne

Combo Sleeper

Jack Reynoso

Combo Sleeper

McKenzie Dillon

Combo Sleeper

Tharon Green

Stomach Sleeper
Frequently Asked Questions
What kind of bed frame should I use for an in-the-box foam mattress?
Lull says you can set up their mattress on any slatted bed frame or box spring — or even the floor — while Nectar recommends buying one of their frames or a similar product, and to avoid putting your mattress on the floor or a handmade frame for maximum comfort.
Which mattress is better for people wary of memory foam, Lull or Nectar?
The Nectar mattress has more of a true memory foam feel than the Lull, which is considered to provide a neutral foam feel thanks to it's second layer.
Which mattress is more affordable, Lull or Nectar?
The Lull mattress is more affordable than the Nectar in most cases, and while Nectar often offers free pillows or bedding with each sale, Lulli s known to offer sales throughout the year.