Who Is It Best For?
Individuals seeking an affordable hybrid mattress
Folks who like memory foam
Who Won't Love It?
People seeking an extra plush mattress
Individuals who prefer latex foam over memory foam
DreamCloud Mattress Review Overview
DreamCloud offers two different beds – the standard DreamCloud Hybrid and the DreamCloud Premier. The company used to offer only one bed, the DreamCloud Premier, which used to be known simply as the DreamCloud mattress. Then in mid-2020, the company re-named the DreamCloud mattress as DreamCloud Premier and introduced a new entry-level hybrid mattress that is now called the DreamCloud Hybrid. That's the quick backstory on DreamCloud. Now, let's dive into the review.
Generally speaking, the two models are very similar with only a few key differences.
Euro-Top Thickness – Both mattresses use a quilted Euro-top for their main comfort layer. However, the Premier model incorporates an additional inch of memory foam for a more intensive pillow top experience, making it one of the best memory foam mattresses out there.
Firmness – Although the Premier model uses an additional inch of memory foam, we actually think the standard DreamCloud Hybrid is slightly softer.
Side Sleeping – Since the base DreamCloud Hybrid is slightly softer, we think it's the more ideal option for side sleepers seeking pressure relief.
More Cashmere – According to the company, the DreamCloud Premier model uses 3x more cashmere in its cover than the base DreamCloud Hybrid.
Price – The DreamCloud Premier is about $300 more expensive than the base model.
As you've probably gathered, the big differences between the two beds boil down to construction, firmness and primary sleeping position. Below you'll find more details about each DreamCloud mattress so you can decide which one is better suited for your sleeping habits.
DreamCloud Mattress Construction
The flagship DreamCloud mattress is a memory foam hybrid mattress that incorporates five different layers totaling 14" thick. Below is a brief overview of how the mattress is constructed starting from the bottom.
Base Foam Layer – serves as the foundation for the coils above.
Individually-Wrapped Coils – form the primary support structure for the mattress.
Support Foam – acts as a transitional layer in the bed.
Gel Memory Foam – provides comfort and pressure relief for sleepers.
Quilted Euro-Top – the primary comfort layer for the bed, which includes additional memory foam.
The cover for the Euro-top is made of a combination of polyester, rayon and cashmere. It is quilted, meaning you cannot unzip and remove the cover from the mattress. However, this really isn't that big of a deal. All it means is that you'll have to spot clean the cover by hand if it happens to get dirty. There are only a handful of bed-in-a-box mattresses that come with machine washable covers, so this is nothing out of the ordinary.
Lastly, we should mention that the foams within the DreamCloud mattress are CertiPUR-US certified, which is just a fancy way of saying they are safe to sleep on. The foams do not contain ozone depleters or harmful chemicals.
DreamCloud Sleeper Type Analysis
In our opinion, the DreamCloud mattress rates out near the middle of the firmness scale (medium). In other words, the bed is not too firm, nor is it overly soft. It finds that nice middle point between comfort and support.
As such, it should come as no surprise that we think the DreamCloud Hybrid mattress is an excellent choice for all types of sleepers. Folks who primarily spend time on their side receive plenty of pressure relief, yet at the same time, back and stomach sleepers still receive the necessary support.
Compared to the DreamCloud Premier model, we think the base DreamCloud Hybrid is better suited for side sleepers given it's a notch or two softer. On the flip side, we think the DreamCloud Premier skews a little more towards the primary back and stomach sleepers since it's a notch or two firmer.
Suitable Body Types For DreamCloud Beds
Given its coil construction and thick design, we think the DreamCloud mattress is an excellent option for people of all shapes and sizes. It doesn't matter whether you're smaller in stature, of average size, or tip the scales at over 250 pounds.
It's important to remember, though, that body size and weight affect perceived firmness. In other words, beds typically feel firmer to smaller individuals and softer to larger individuals. This is because larger folks place extra stress on the mattress and thus, sink further into the comfort layers, whereas smaller folks exert very little pressure and stay more on top of the surface.
Is DreamCloud A Good Mattress For Couples?
As with the Premier model, the standard DreamCloud Hybrid performs well in the edge support and motion isolation departments. We don't envision couples experiencing any major issues with this mattress.
DreamCloud Mattress Pricing
The base DreamCloud Hybrid Mattress is priced very affordably. It's in the same price range as the Brooklyn Bedding Signature and Helix mattresses, generally known as excellent values. At 14" thick, we think the base DreamCloud Hybrid mattress deserves that same recognition – it's a solid value overall. Below is a table that lays out MSRP by size.
Don't let the MSRPs above deter you. You likely won't end up paying full price come checkout. That's because DreamCloud regularly offers sales and discounts. In most cases, you can expect to receive a $100-$200 discount on the bed, bringing the queen size down below the $1,000 mark. Sometimes the company will even throw in a gift like sheets or a pillow with your mattress purchase as well, so keep an eye out for that. Also, be sure to check the green discount box on your screen for current promotions.
DreamCloud Mattress Reviews Verdict
Overall, we really like the DreamCloud Hybrid mattress. At less than $1,000 for a queen size after discounts, we think it's the way to go over the Premier model unless you're a strict back or stomach sleeper that prefers slightly firmer beds.
DreamCloud Premier Price & Coupon Code
In our opinion, the DreamCloud Premier mattress is priced fairly, considering the quality of the bed. This has a lot to do because they cut costs on distributors, intermediaries, and storefronts by selling directly to the consumer online. All in all, we think the DreamCloud Premier mattress is an excellent value for people looking for a durable hybrid bed. Here's how pricing breaks down in terms of MSRP:
| SIZE | PRICE (Discount) |
| --- | --- |
| Twin | $899 |
| Twin XL | $1099 |
| Full | $1299 |
| Queen | $1399 |
| King / Cal King | $2,298 ($1,699) |
DreamCloud, like pretty much every other mattress brand, likes to play the discount game. Typically, you can expect the company to take at least $100-$200 off your mattress purchase. That would bring a queen size down around the $1,100 mark, which again is pretty incredible given the mattress's high-quality construction. You can check the green discount box on your screen to see if that particular promotion is still live.
DreamCloud Premier Mattress Video Review

Whenever possible, we like to accompany our reviews with a video. We just think that videos do a better job of demonstrating elements like feel, firmness, and so on.

Whenever possible, we like to accompany our reviews with a video. We just think that videos do a better job of demonstrating elements like feel, firmness, and so on.
DreamCloud Premier Mattress Construction
DreamCloud Premier is a hybrid bed made with coils, memory foam, and polyfoam. All in all, the bed is comprised of five different layers and totals 14″ thick. Here is a quick breakdown of the different layers starting from bottom to top:
8.5″ Pocketed Coils – this layer serves as the primary support framework for the mattress.
Transition Foam – Another layer of supportive foam that acts as a transition from the firm coils below.
Gel Memory Foam – This layer provides an element of comfort and deep pressure relief for sleepers.
Quilted Euro-Top – The topper on the bed is made up of two different layers of comfort foam, including memory foam.
As we alluded to above, the DreamCloud Premier mattress incorporates a special 2″ quilted Euro-top comprised of two separate layers of comfort foam, both on the softer side of the spectrum, to provide extra comfort for sleepers. Wrapping the euro pillow-top is a soft cover made of cashmere, rayon, and polyester, which we think gives the DreamCloud Premier mattress a premium look and feel.
We should also mention the cover is not removable, which means if it happens to get dirty, you'll have to use water and a mild detergent to spot clean it. You could buy a mattress protector for the bed. However, there are upsides and downsides with those.
For instance, if you get one, you're spending even more money (that you probably didn't budget for), and it can affect the feel of the mattress. In other words, adding an extra layer that happens to be waterproof will typically make the sleeping surface feel firmer and harsher. It is probably not an issue if you sleep on your back, but it can be bothersome if you spend time on your stomach or side.
Firmness Rating For The DreamCloud Premier
Thanks to the memory foam layers near its surface, the DreamCloud Premier mattress does have a memory foam feel, but we wouldn't say it's overwhelming. The quilted Euro-top (which comprises two separate comfort foams) works to balance out the viscous memory foam feel a little bit. Overall, we'd say the bed has a pillow-top feel with a touch of memory foam.
Moving on, we think the mattress lands right around a medium to medium-firm on the firmness scale. We should mention that the earlier version of this bed was a little firmer, but the mattress is now a tad bit softer after the change to its construction.
It is important to note that softness/firmness is subjective based on your weight and BMI. Heavier folks will experience a softer DreamCloud Premier and lighter individuals will claim that it's firmer. This might seem intuitive, but a lot of people overlook it.
We would also consider DreamCloud Premier to be a responsive mattress—mostly due to the fact that it has 8.5″ pocketed coils and a quilted Euro-top that is not comprised of memory foam. This means that switching positions requires little effort, which can help with getting more restful sleep.
You can see in the video above that the DreamCloud Premier snaps back into shape fairly quickly after you remove pressure, which means combo sleepers should be jumping for joy. This bed makes rotating positions incredibly easy.
Suitable Sleepers For The DreamCloud Premier
Back And Stomach Sleepers

Given this bed lands on the firmer end of the spectrum (albeit not by much), we think the DreamCloud Premier is an excellent choice for back and stomach sleepers seeking a supportive hybrid mattress that's not excessively firm.

Some back and stomach sleepers may prefer the older, firmer version of this bed, but at the end of the day, it now strikes a much healthier balance between comfort and support, which side sleepers will certainly appreciate. Speaking of side sleepers, let's touch on that subject next.

Side Sleepers

If you would have read this review a year ago, the answer to the question above would have been "probably not". However, the newly updated DreamCloud Premier mattress is indeed a good option for side sleepers given it's a notch or two softer this go around. You now nestle into the bed a little more and the combination of the pillow-top and memory foam are very forgiving. As such, side sleepers will find the bed provides a decent amount of pressure relief for their hips and shoulders.

Combination Sleepers

As for combination sleepers, DreamCloud Premier should be fine here as well. The responsive nature of the mattress as a whole makes it effortless to roll between sleeping positions. You won't encounter hardly any resistance when you try to go from your back to your side, for example.
Heavy Individuals

The DreamCloud Premier mattress is a solid option for heavy people. Its overall profile, pocketed coils and dense foam layers, all work together to make one heck of a bed. Our resident big dog, Dillon, currently sleeps on this bed and absolutely loves it.

The upgrade to 8″ pocketed coils gives us a lot of confidence in this bed. It's probably not as robust as WinkBed or Big Fig for heavier folks, but it can hold its own. With that said, heavy individuals who spend most of the night on their backs or stomachs may find the bed to be a tad bit too soft. If you fall into this category, be sure to check out our list of the best mattresses for heavy people.

Petite Individuals

For more petite individuals, DreamCloud may be overkill. The bed is so thick that it's just more than you need. Don't get us wrong, small individuals will be just fine on DreamCloud, but the bed could be considered unnecessary. Smaller people would be perfectly comfortable on a 10" foam mattress, which would also be more cost-effective. DreamCloud—as you might have discerned by now—will be just fine for more average size people. It's a really nice mattress.
Is The DreamCloud Premier A Good Mattress For Couples?
We've covered most of the important stuff by now, but there are three additional factors that you should be mindful of if you sleep with a partner. Those are (1) edge support, (2) motion transfer, and (3) temperature.
Edge Support
The edge support for this bed is pretty solid, which means the edges hold up really well when you end up lying along the perimeter of the bed. This often happens when your partner hogs the very middle of the bed and spreads out starfish style while you hug the edge of the mattress for dear life. Luckily with DreamCloud, the edges won't crease and you won't end up on the floor.
As you can see in the image above, DreamCloud is holding up very well along the perimeter. With a lot of all-foam beds—and even some hybrid beds—the edges will compress so much that you feel as if you're going to fall off of the bed. That's not the case with DreamCloud, though.
Motion Isolation
As for motion isolation, the bed does a pretty decent job with this as well. The coils in this bed give it a bit of bounce, but overall, it's nothing to be overly concerned with.
As you can see above, the bed does a competent job of limiting motion transfer, especially for a hybrid or spring mattress. Ultimately, motion transfer is not a reason to pass on the DreamCloud mattress.
Temperature Regulation
We wouldn't say the DreamCloud Premier is a warm sleeping bed. Sure, the mattress is soft and you do nestle into a little bit, but the pillow top works to counteract the memory foam a little so that you don't feel like you're being hugged or engulfed by the top layers. Plus, the coils in the bed allow for a decent amount of airflow. In our eyes, the DreamCloud Premier mattress should be considered temperature neutral.
Keep in mind, plenty of other factors beyond your mattress play into how warm or cool you sleep as well. We're referring to things like your pajamas, room temperature, sheets, etc.
DreamCloud Premier Mattress Review Verdict
DreamCloud Premier is a high-quality, hybrid mattress that offers consumers a little taste of everything – coils, memory foam and a euro pillow top. Furthermore, our DreamCloud mattress review team found that the bed is highly accommodating in that it satisfies all types of sleepers and people of all shapes and sizes. Plus, it's tough to argue with the price tag. You won't find too many other 15″ hybrid mattresses that you can purchase for around $1,000-$1,200 (queen-size).
With that said, it's not all roses and unicorns. Although the masses may like the softer version of the DreamCloud mattress better, we're sure there is a group of back and stomach sleepers out there who wish the company would have stayed with the original firm version of the bed.
Other DreamCloud Products
Platform beds
Metal frames
Frames and headboards
Sheet sets
Pillows
Mattress protectors
Weighted blankets
DreamCloud Mattress Ratings
BBB rating: Not rated
Amazon reviews: 4/5 stars Out of the 96 customers who reviewed the DreamCloud Mattress, 64% gave it 5 stars and 21% gave it one star. Most of the complaints on Amazon centered around it not being what they expected when it arrived — too big, not thick enough, shipped in a box, not a bag, and how it's different from the original DreamCloud model mattress they thought they were going to receive.
DreamCloud Company Policies
DreamCloud is owned by Resident Home, which also operates the Nectar, Awara and Level Sleep brands. We bring this up to let you know that DreamCloud is not a standalone company and that an industry veteran backs the brand.
DreamCloud, like the majority of online bed-in-a-box companies, offers free shipping with their mattresses. Previously, the beds would actually arrive compressed in a protective bag. However, the company recently switched over to using cardboard boxes. That's not really noteworthy as it really doesn't make a difference, but we thought we would mention it anyway for the sake of being complete.
DreamCloud is a thick, heavy mattress, so you probably will want a friend to help you set it up. You need to unroll it, remove the packaging, and allow it to pop into shape. It takes a few minutes, but it's a really fun process.
DreamCloud Mattress Unboxing Video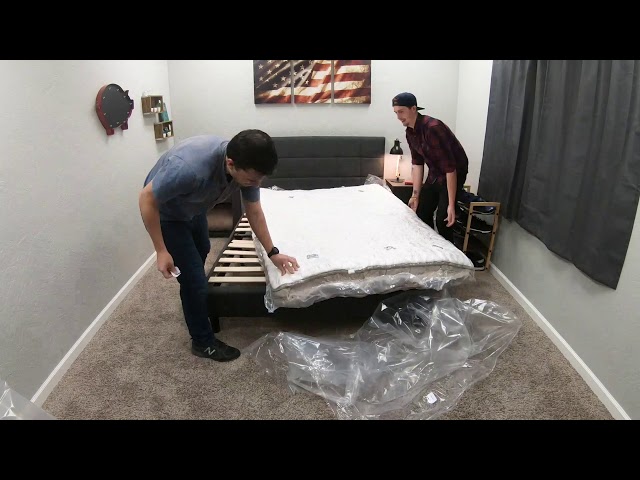 If you're worried about carting this mattress around and setting it up for yourself, DreamCloud does offer white glove delivery, in-home setup, and mattress removal for a fee. This service isn't available in all areas, so you might want to check DreamCloud's website to get all the details.
Once your new mattress is set up, either by you or via white glove delivery service, you then have a 365-night trial period to see if you love your bed. That's a full year, ladies and gentlemen—pretty crazy.
If you aren't 100% in love with your mattress within that year, DreamCloud will completely refund your money and pick up the mattress for free. DreamCloud also offers a lifetime warranty with their mattress, so you're covered as long as you own it. For reference, the trial period and warranty DreamCloud offers consumers is substantially longer than most online mattress brands.
DreamCloud Company Info
DreamCloud mattress physical store locations
DreamCloud doesn't currently offer their mattresses in any physical stores. That said, they do offer a full year to try one at home and see if you like it.
DreamCloud mattress contact information
Email: shop@dreamcloudsleep.com
Find DreamCloud on social media
Why Trust Us
Get the kind of sleep you've only dreamed of with some help from our team of mattress experts. We personally test more than 175 of the best sleep solutions from over 60 leading brands on site, so you can be sure you're getting unbiased reviews, fair comparisons and personalized recommendations.
---
The Review Team
Dillon Payne

Combo Sleeper

Wesley Ott

Combo Sleeper

JD Christison

Combo Sleeper

Owen Poole

Side Sleeper
Frequently Asked Questions
How firm is the DreamCloud Premier mattress?
The DreamCloud sits between a medium and medium-firm, meaning it's about a 6-7/10 on the firmness scale.
Will side sleepers like it?
DreamClouds are a little on the firmer side, but we expect that all sleeping styles will be fine on DreamCloud beds.
Does DreamCloud have coils?
Yes. These are innerspring mattresses with coils on the bottom and memory foam for comfort.
What safety certifications do the DreamCloud mattresses have?
Safety is important. The DreamCloud mattresses are independently certified by CertiPUR, which is a third party global rating standard. This means the beds are free from any known harmful chemicals and gases like ozone depleters, PBDE flame retardants, heavy metals, formaldehyde, phthalates, and Volatile Organic Compounds. Plus, DreamCloud states their beds are also naturally resistant to bed bugs.
Where are DreamCloud mattresses shipped from?
Great question. Your DreamCloud mattress should ship to you anywhere in the United States in 1-5 business days from their distribution centers in Washington state.
How did Slumber Yard get the DreamCloud mattresses?
We were sent the beds from DreamCloud Sleep for free so that we could review them. As always, though, we did not accept any money to write good or bad things about it. We review products independently.
Does DreamCloud offer white glove delivery?
Yes, but they charge a fee of about 0 for the service.
Can I test DreamCloud at any retail stores?
Not right now. There are certain other brands like Tuft & Needle and Casper that allow you to try in retail stores, but DreamCloud is only online. Does it really matter, though, if you have a full-year trial period? We think not.
Would you consider this a u0022trueu0022 memory foam mattress?
No. While the bed uses memory foam, the euro top helps to balance it out. Additionally, remember, you have the 8″ coils, which helps to force the memory foam to pop back into shape quickly.
Does DreamCloud come with free returns?
Yes. You can actually try the mattress for up to a full year before you either need to keep it or return it. If you want to return the bed inside your trial period, you should be able to get a full refund.
Is there a DreamCloud Mattress discount code I can use?
Usually, yes. Scroll up to the top-right corner of this page to check if we have an active discount code you can use.
How often will I find a sale on DreamCloud?
DreamCloud runs sales for the major holidays you'd expect, like Memorial Day, the 4th of July and Labor Day.