Leesa Mattress Review
In this review we take a deep dive in the Leesa mattress, one of the most popular foam beds online.
Leesa is, easily, a top 10 mattress in a box brand online, and in this review we discuss the pros and cons of their flagship mattress. Whether you're interested in firmness, feel, or price, we have all the details in this guide. The short story, however, is that Leesa is a comfortable foam mattress made for the masses.
15% Off

Code: SLUMBERYARD

Free Shipping & Returns
100 Nights Trial Period
10 Years Warranty
Made in USA

Claim Discount
Who Is This Best For?
People that want a comfy foam bed
If you don't have much of a budget
All sleeping positions
Who Won't Love It?
Heavier folks
If you're searching for a particularly soft or firm bed
Leesa Mattress Review
Leesa is one of the big five brands in the online mattress shopping space. It's helped create the standards you see for every other brand and offers comfortable mattresses that are delivered to your home inside of a box. The flagship Leesa Mattress has a lot of fans because of its comfort, quality, and accommodating features that seemingly make it ideal for all sleeper positions (back, stomach, side, and combo).
If you want to know anything in particular, you can use the links below to individual sections of our in-depth Leesa Mattress review:
Leesa Mattress Video Review
This video (created in partnership with our sister review site, Rizknows) visually shows you this mattere's feel, firmness, and design.
Leesa Mattress Construction And Design
At a high level, the Original Leesa bed has a similar design to many of the other mattresses that we've reviewed. It's 10" thick, constructed entirely of foam and has three layers:
Base layer — 6″ of dense polyurethane foam, and provides the foundation and bulk of the support for the mattress
Transition layer — 2" transition layer of memory foam that provides pressure relief and stops you from feeling the dense, more harsh base layer
Comfort layer — A proprietary foam called LSA200 that feels more neutral and is soft to the touch
We see a similar design with the Casper Element mattress, Cocoon by Sealy and plenty of others. Even so, the feel and design of the Leesa mattress is nice.
That LSA200 foam offers great pressure relief and is comfortable to lay on. LSA200 really is the comfort layer. It's what you will feel most and it's what makes this mattress so accommodating.
Mattress Cover
The cover on the mattress is made mostly of polyester, viscose and lycra. It's very soft and has a striped texture that makes it comfortable to lay on.
Technically, the cover is removable, but it's not worth it because it's not machine washable. If you need to clean it, you should spot clean with a dab of light detergent and warm water.
Leesa Mattress Feel And Firmness
Because Leesa uses a combination of foams, it has more of neutral overall feel. It does use memory foam, but Leesa doesn't feel at all like a memory foam mattress. Instead, if you can imagine this, it feels like a bed made of a general, soft foam. The top layer is airy and light, almost like a marshmallow.
To be honest, the Original Leesa feels bland and kind of boring, but we think that's a good thing, oddly enough. This is a highly accommodating, universally comfortable bed that few people will take a hard stance against. Basically, if you want a safe pick, that's Leesa.
Responsiveness
Leesa won't dreadful stuck-in-the-mud feeling. You can effortlessly rotate between sleeping positions without feeling slowed down by the mattress. Beds that are more responsive generally make it easier to get restful sleep.
In our firmness analysis, we though Leesa was right down the middle in terms of firmness. It's a medium on the soft/firm spectrum and will therefore be suitable for the greatest number of people.
Is Leesa A Good Mattress For Couples?
Edge support and motion isolation are two important elements that you should consider with your new bed if you're sleeping with a partner.
Motion Isolation
Motion isolation is important with any mattress, but it's acutely important when one partner is (1) active in their sleep and/or (2) is a huge fan of getting up for a midnight snack. Usually, all-foam beds are good at limiting motion transfer and Leesa is no different.
The bed does a good job of absorbing and isolating the movement. This is basically the LSA200 foam and memory foam working in tandem to deaden cross-mattress motion. We even bounce around on the bed and hardly any of that motion travels through the bed—impressive stuff.
Edge Support
Edge support often goes overlooked but is key if you plan to share a twin XL or full size mattress. With these smaller size beds, space is limited, so you want to be able to access the entire surface area of the bed, including the perimeter. If the edges compress too much you can get a roll-off sensation.
Leesa has okay edge support, which is common for all-foam beds. We've seen worse, but we've also seen much better edge support. Edge support is not a reason to get Leesa, but it shouldn't be a major deterrent either.
Temperature Regulation
The Leesa Original mattress does not sleep hot. This bed is a neutral sleeping bed that does a nice job of wicking heat. We wouldn't consider it particularly hot or cold. Having said that, lighter folks will typically find that it sleeps cooler because they sink in less. The opposite is true for heavier people. This goes for all mattresses.
Leesa Mattress Sleeper Analysis
You should take your weight and sleeping position into consideration when you're looking for a new mattress.
Heavy Individuals
We can't recommend Leesa. In fact, we can't recommend any 10" all-foam mattress for that matter.
If you're over 250 lb, you will apply more stress to the mattress and therefore you should consider only supportive, thicker mattresses. We've actually put a list together of the best mattresses for heavy people.
We generally advise that heavier individuals first consider innerspring mattresses when they're searching for a new bed. The fact of the matter is that coil mattresses tend to be more supportive over the long run.
Petite sleepers
If you're under 250 lb, you have a lot more leeway with the mattress that you select, and we think you should be just fine with the Leesa bed. We think it will be durable for you.
Back And Stomach Sleepers
Back and stomach sleepers want firmer mattresses that make it easier to keep a neutral spine. You still want compression so the bed contours to your body, but you want it firm and supportive enough that you don't feel any excess pressure in your lower back. With this in mind, Leesa will do just fine for you.
Side Sleepers
As for side sleepers, the Original Leesa mattress is a great pick. It offers a good amount of pressure relief, particularly for you hips and shoulders. Now, if the bed feels a hair too firm initially, remember, that it will soften up over time.
Combo Sleepers
Combination sleepers typically want a neutral, responsive bed that's anywhere from a medium-soft to medium-firm on the soft/firm spectrum. That's Leesa. This is a nice bed for anyone who tosses and turns throughout the night.
Leesa Mattress Prices
Leesa is one of the heavyweights in the bed-in-a-box industry, and part of its success is due to the price of the mattress. We've tested out cheaper, budget mattresses, but the Leesa Mattress cost is fairly affordable, all things considered. Here's a breakdown of the MSRP for the Leesa mattress:
| Size | Price (MSRP) |
| --- | --- |
| Twin | $499 |
| Twin XL | $599 |
| Full | $899 |
| Queen | $999 |
| King / Cal King | $1,199 |
Is There A Coupon Or Discount Code For Leesa Mattresses
Leesa often offers temporary coupons and discount codes on its mattresses. You can check Leesa.com to see current promotions. Conservatively, you can expect to get the queen bed for around $850-$900 during one of these sales.
Leesa Original Mattress Review Verdict
We can see why Leesa is so popular: it's a quality bed that doesn't over-complicate things. You don't have any special bells and whistles, no cooling textiles, no coils and nothing to turn off the average consumer. We like it for myriad reasons, but probably the most impressive thing is that it's a jack of all trades. It's a good bed.
Other Leesa Products
Why Trust Us
Get the kind of sleep you've only dreamed of with some help from our team of mattress experts. We personally test more than 150 of the best sleep solutions from over 60 leading brands on site, so you can be sure you're getting unbiased reviews, fair comparisons and personalized recommendations.
Dillon Lopez

Combo Sleeper

JD Christison

Combo Sleeper
Other Beds From Leesa
At a high level, there are three big differences between the three Leesa mattresses: price, construction and firmness level. Leesa reviews tend to be positive, but you might find that one suits your needs more than other.
Leesa vs Leesa Hybrid
The formerly-called Leesa Sapira Hybrid, now just Leesa Hybrid, has increased edge support and still has a neutral foam feel. You end up laying more on top of Leesa's hybrid beds, whereas the Original Leesa mattress allows you to sink in a little more. The hybrid versions will cost more.
Leesa vs Leesa Legend
The Legend is a luxury-tier mattress. It has two layers of pocket coils for extra support for heavier individuals. It is also a lot more expensive.
Leesa Company Policy Information
The Leesa mattress—like Purple, and many others bed in a box mattresses come with several company policies to sweeten the deal of you buying a mattress.
Free shipping and returns (arrives in 7 business days via UPS)
Upgrade to white glove delivery
100-night trial period
10-year warranty
Unboxing The Leesa Mattress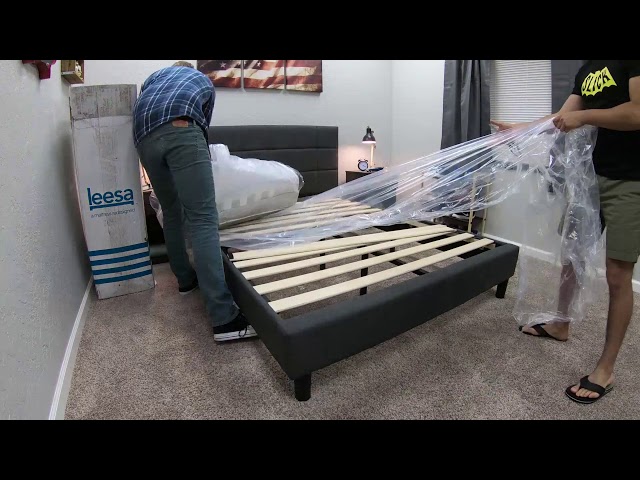 All you have to do is drag the box inside your house, tear off all of the plastic wrapping, and allow Leesa a while to decompress. Because it has been confined to a box for several days, the bed will be slightly flat even when you remove all of the packaging. Wait about 24 hours and Leesa will be ready to go. It's completely safe to lay on and sleep on the first night, but just be aware that it's going to feel softer than normal.
Sizes And Dimensions
Twin — 39″ x 75″ x 10″
Twin XL — 39″ x 80″ x 10″
Full — 53″ x 75″ x 10″
Queen — 60″ x 80″ x 10″
King — 76″ x 80″ x 10″
Cal king — 72″ x 84″ x 10″
How did the Slumber Yard get the Original Leesa mattress?
We were sent this bed by Leesa in order to review it—same for their other two beds. As always, however, we did not accept any money to say positive or negative things about it.
What does the Original Leesa mattress smell like?
For the first week or so, it will have more of a chemical smell (off-gassing if you will). This is normal for pretty much every bed-in-a-box and is partly due to the fact that the bed was wrapped in plastic for several days in the shipping process. Part of the smell also comes from just the use of new, clean materials.
What other products does Leesa offer?
Leesa sells a number of other products. For starters, they two Leesa Pillows. On top of that, they also sell a platform bed with wooden legs, a mattress foundation, and the Leesa Adjustable Bed Frame. And, as if that wasn't enough, they have sheets and two types of blankets. That's as of early 2019—we wouldn't be surprised in the least if they announced new products in the future. I would expect in the future to see a mattress topper, comforter, and/or other related furniture items. For instance, Casper now sells a bedside lamp—we could see Leesa doing something similar.
What certifications does the Leesa mattress have?
The foams are CertiPUR-US certified. This means they are manufactured without heavy metals and certain harmful chemicals. You can read more about the certification on the CertiPUR-US website.
Do they offer white glove delivery?
Yes, however, white glove delivery is an addition $100. For an extra $50 they will remove your old mattress.
What is white glove delivery?
White glove delivery refers to when a regional or local delivery firm delivers your mattress. They typically send a two-person team that will situate the mattress in whichever room you designate. White glove delivery takes longer than UPS, however, it requires less effort on your part because the movers do all of the work.
Where can I try a Leesa mattress?
Leesa beds can be found at certain West Elm locations. According to Leesa's website, you can find their beds at over 95 locations in North America. You can also apparently find Leesa at certain Pottery Barn stores.
What is the 1 For 10 Program?
Leesa donates a lot of mattresses. As of August 2018, they had donated over 30,000 beds to people in need. In fact, they donate one bed for every 10 that they sell.
Tell me more about Leesa's social impact.
In addition to the 1 For 10 Program, they also partnered with the Arbor Day Foundation to donate one tree for every mattress they sell. Apparently, they have a goal of planting one million trees by 2025. Additionally, Leesa's employees are encouraged to participate in their local communities by volunteering at kids foundations, food banks, and outreach centers. The company actually was recognized as a "Real Leader" by Real Leader Inc. for making social good a part of the company's ethos.
How will shipping and returns work in the US?
You get free shipping and free returns in the contiguous USA. Leesa uses FedEx for deliveries.
How firm is the Leesa mattress?
We consider the Leesa mattress to be about a 5/10, or a "medium." It's not too soft or firm.
Where is the Leesa bed made?
This particular mattress is made in the USA.
Will side sleepers like the Leesa mattress?
Yes! We do expect that the majority of side sleepers will like the Leesa mattress.